Ano Novo, Música Nova! Ouvidos novos, também, para escutarmos aquilo que verdadeiramente interessa. Vozes renovadas para cantar mais e mais!
Em 2013 vamos estar cada vez mais perto do Nascimento da Música - em vários lugares do Mundo, com pessoas de todos os tamanhos.
New Year, New Music! New ears, too, to listen to what truly matters. Renewed voices to sing more and more!
In 2013 we will be getting closer to the Music's Birth - in several places in the world, with people of all sizes.


O Peça a Peça continua a sua viagem no Centro Infantil Roseiral, acordando famílias e profissionais para a arte de bem-estar através da Música. O Peça a Peça, conjunto de peças portáteis para a infância criadas no âmbito do Projecto Opus Tutti, terá vários itinerários no ano Crescer deste projecto. Assim, a 12 de Janeiro Opus 1 estará nos Paços da Cultura em S. João da Madeira, levando na bagagem um violoncelo. Depois, muda-se com armas e uma harpa na bagagem para apresentar Opus 2 a 17 no Teatro Pax Julia em Beja e a 26 no Teatro Municipal de Bragança. E porque Arte e Ciência fazem parte do mesmo gesto criativo, iremos também até ao Algarve para participar no Colóquio Internacional Artes e Ciências em Diálogo.
Peça a Peça (Play the Play) continues its journey in the Roseiral Nursery Centre connecting families and professionals through music. The Art of Well-Being. Peça a Peça, a set of portable pieces created within the scope of the Project Opus Tutti and designed for infants is ready to travel and be presented both in nurseries and theatres. On the 12th January, Opus 1, featuring voice, cello and dance, will be presented in the Hall of Culture in S. João da Madeira. Then, we change ingredients and scenery: theatre, voice and harp will be on in action in Opus 2 which will be presented on the 17th at the Teatro Pax Julia in Beja and on the 26th at the Teatro Municipal de Bragança. From North to South, we also travel to Algarve to participate in the International Conference Arts and Sciences in Dialogue. Art and Science are different paths of creativity - they need each other. We need both.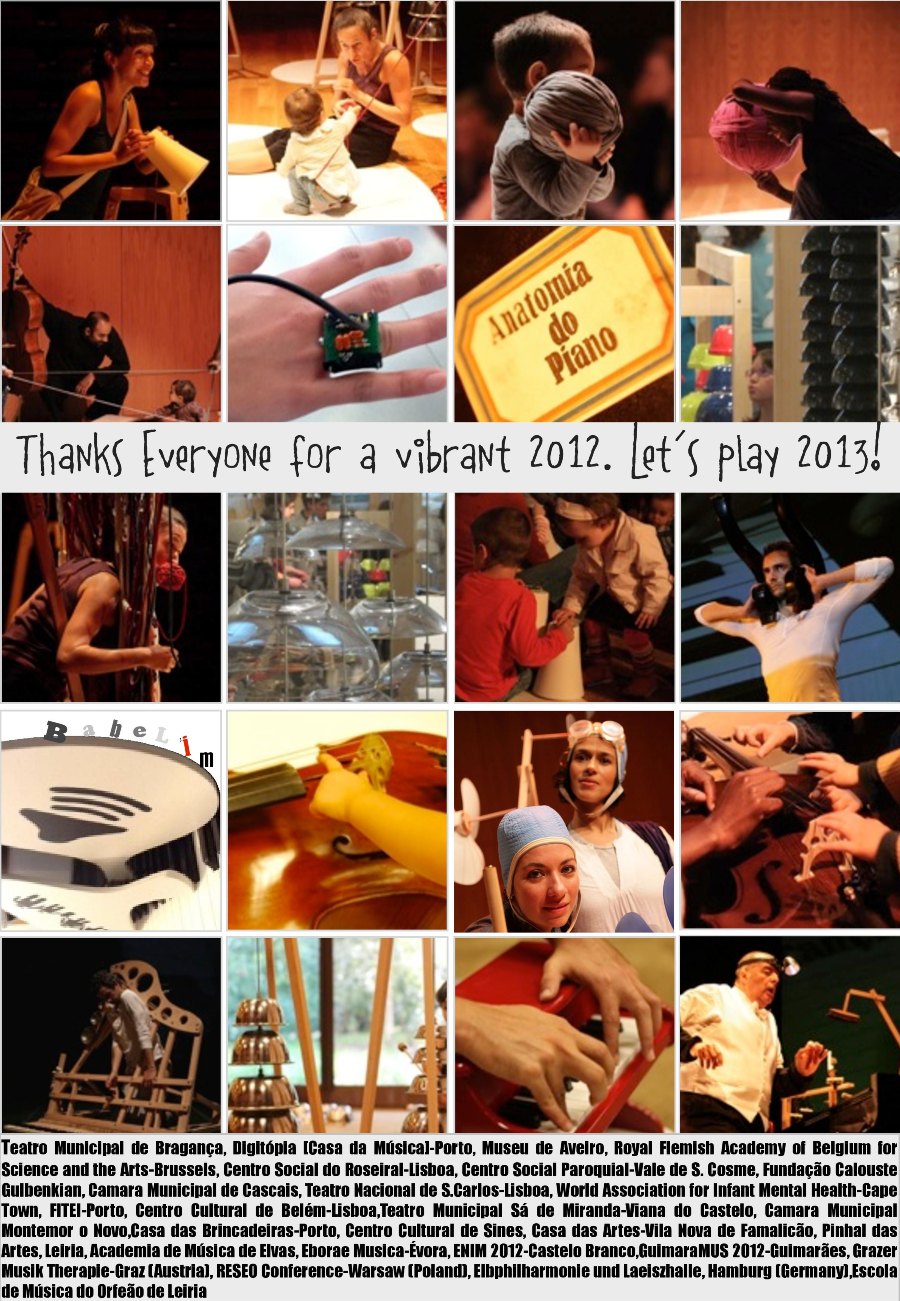 2012 foi um ano cheio de vida e estamos gratos a todos quantos estiveram connosco: os que connosco cresceram e os que nos receberam dando sentido ao nosso trabalho.
2012 was a vibrant year and we are grateful to all those that have been with us: those who grew up with us and the ones that hosted us and turned our work meaningful.


Música: sons em relação! Fazer música é entrar em relação. Com os sons, entre pessoas. Em relação diluem-se os indivíduos, constroi-se uma entidade. O prazer da coesão, da sintonia!
O Gamelão de Porcelana e Cristal é um instrumento que convida a essa sintonia. Logo a começar, pelo prazer visual; depois, pelo prazer dos sons.
O meu papel é estar atento: definir o que se insinua mais adequado em cada momento. Com sinais gráficos criados para o efeito, com alguns gestos e alguma loucura, sugerir argumentos de ligação.
Ligamo-nos, logo, existimos!

Joaquim Branco, colaborador do projecto Opus Tutti,
professor da Escola de Música do Orfeão de Leiria e assistente na Universidade de Aveiro
Music: sounds in connection! To play music is to connect. With sounds, with people. When we are in touch with someone a new entity emerges. Then, we can feel the pleasure of intimacy and companionship !
The Gamelan of Porcelain and Crystal is an instrument that invites to harmony through its visual and sonorous vibrations.
My role is to be aware in order to tune the "present moment". I do that by using signs and gestures purposefully created for that goal. I also create some crazy arguments to suggest binding.
We connect, so we exist!
Joaquim Branco, Opus Tutti's artist,
teacher at Escola de Música do Orfeão de Leiria and assistant at the University of Aveiro

No nosso álbum de recordações encontrámos uma linda melodia açoreana harmonizada por Paulo Maria Rodrigues. Esta pequenina pérola do oceano desperta o embalo e abre o sonho. É para si. Aqui!
In our scrapbook we found a beautiful azorean melody harmonized by Paulo Maria Rodrigues. This little pearl of the ocean cradles us and inspires the dream. That's for you. Here!


O Gamelão de Porcelana e Cristal está de visita a Leiria, pela mão da Escola de Música do Orfeão de Leiria e com o coração do nosso Joaquim Branco. Verdadeiramente o Nascimento da Música: novos Sons, outras dimensões, novos frutos. Pode ser visitado - e tocado por crianças e adultos - no Museu da Imagem em Movimento. Até à Primavera!
The Gamelan of Porcelain and Crystal is visiting Leiria, guided by hand of Orfeão de Leiria and with the heart of Joaquim Branco. Music's Birth, indeed: new Sounds, other dimensions, new fruits. It can be visited - and played by adults and children - at the Museu da Imagem em Movimento. Till Spring!