Estamos de volta! Num dia muito especial, o Dia Mundial da Música. Pare, Escute e Cante.
We're back ! In a very special day, the World Music Day. Stop, Listen and Sing.


Outubro é mês de música. Cantada, tocada, dançada, falada. AliBaBach no Brasil inclui espectáculos, oficinas, conferências, formação, entre S.Paulo, Brasília, Fortaleza e Belo Horizonte. São assim as constelações. O Opus 2 vai a várias creches de Lisboa e em Oeiras haverá Patrulha. O Pianoscópio, a nossa mais recente criação, estreia no CCB, no Festival BIGBANG. Estaremos ainda com os nossos amigos da RESEO em Bruxelas.

October is a month of music: sung , played , danced, spoken. AliBaBach in Brazil includes performances , workshops , conferences, training, between S. Paulo, Brasilia, Belo Horizonte and Fortaleza. So are the constellations. The Opus 2 goes to several nursery schools in Lisbon and. Oeiras will host Patrulha. Pianoscópio, our latest creation, will be premiered at CCB at the Festival BIGBANG. We will also be with our RESEO friends in Brussels.


Ainda se ouvem as reverberações de AliBaBach em Macau e na China. Foi uma experiência intensa e bonita, que nos ensina que a música nos permite comunicar bem para lá das palavras. Mas às vezes gostamos de falar sobre a música. Foi assim nos XX Cursos Internacionais de Verão de Cascais, falámos sobre a capacidade da música servir como ferramenta para o desenvolvimento humano. Mas não resistimos e houve música também. Há também ecos de Babelim e Patrulha em Beja, Opus 2 e Opus 6 em Oeiras, Jardim Interior na Fundação Gulbenkian em Lisboa, de formações em Vigo, no CCB em Lisboa e em Beja.
The reverberations of AliBaBach in Macau and China can still be heard. It was a beautiful and intense experience, teaching us that music allows to communicate well beyond words. But sometimes we like to talk about music. It was like that at the XX International Summer Courses of Cascais, we talked about music's power to serve as a tool for human development. And we could not resist and there was music, too. There are also echoes of Babelim and Patrulha in Beja, Opus 2 and Opus 6 in Oeiras, Jardim Interior at the Gulbenkian Foundation in Lisbon. An extensive program of training sessions has also taken place in Vigo, the CCB in Lisbon and Beja
.


Partilhar os caminhos do processo exploratório e lançar propostas de criação do movimento como um caminho de descoberta, investigar o cruzamento da Dança Contemporânea com o Yoga, a Psicologia e a Alquimia, procurando uma visão alargada sobre o Corpo (performativo) enquanto unidade psico-física, "pedaço de natureza a ser conhecido". É nesse território que me movo, sempre à procura."

Pedro Ramos

,
bailarino, músico, coreógrafo, intérprete de AliBaBach e Anatomia do Piano,
director artístico da Ordem do O,
colaborador regular da CMT
Sharing the paths of exploratory processes and launching proposals for the creation of movement as a path of discovery, researching the intersection of Contemporary Dance with Yoga , Psychology and Alchemy, seeking a broad overview on the Body (performative) as psycho- physical unit , "piece of nature to be known". This is the path in which I move, always searching"


Pedro Ramos

,

dancer , musician , choreographer , performer in AliBaBach and Anatomy of the Piano,
artistic director of Ordem do O,
regular collaborator of CMT


Adivinha" é um "poema audiovisual", uma adivinha acerca dum ser que tem três pernas, mas não anda, preto e branco sem ser zebra, e por aí adiante... Com a voz da kalimba, do trovão, da chuva. Do riso, do grito, do beijo, do gemido, do suspiro, do contralto, do soprano. De quem falo, é do? Aqui!

"Adivinha is an "audiovisual poem", a riddle about a three legged being that does not walk, black and white but not a zebra, and so on.... With the voice of the nightingale, the kalimba or the thunder. Song, cry, laughter, sigh, kiss. Can you tell who is this? Here!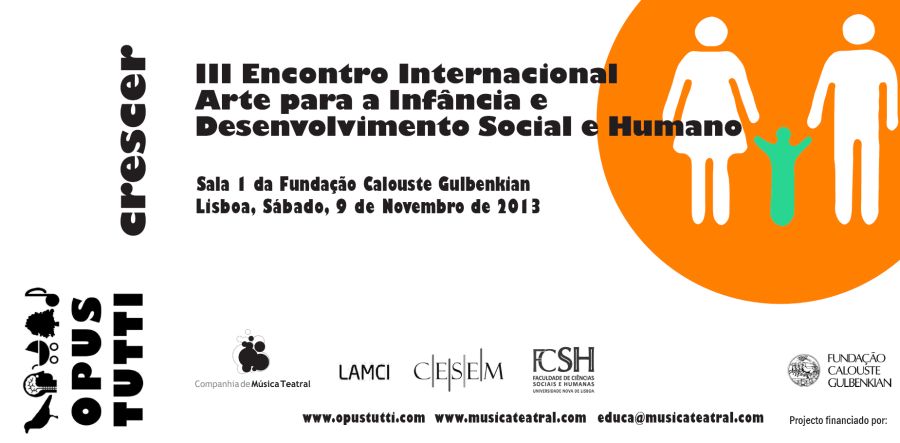 Estão abertas as inscrições para o III Encontro Internacional Arte Para a Infância e Desenvolvimento Social e Humano. Terá lugar na Fundação Calouste Gulbenkian, no dia 9 de Novembro. O programa e a ficha de inscrição estão disponíveis aqui.
Registration is open for the III Internacional Colloquim on Arts for Infancy and Social and Human Development. It will take place at the Gulbenkian Foundation, in Lisbon, on the 9th of November. Program and registration is available here.