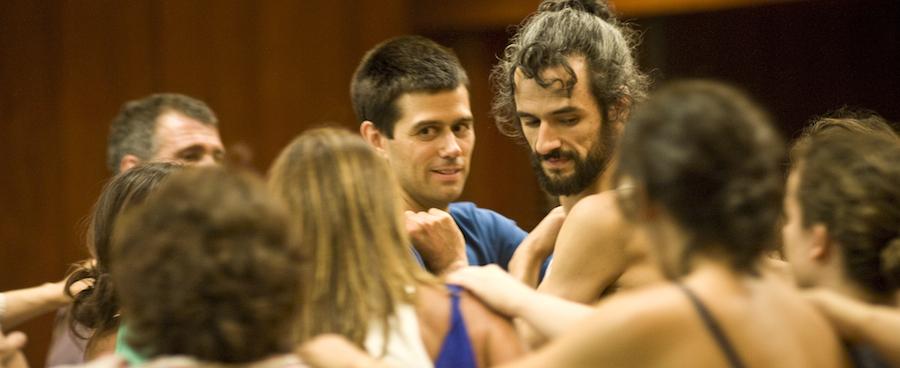 Quando trabalhamos com pessoas (artistas, educadores, estudantes) que nos procuram para aprender com a nossa experiência, pensamos sobretudo em inspirá-las para que procurem e desenvolvam os seus próprios caminhos numa relação activa com a arte. E usamos a designação de TransFormação Artística para esse tipo de trabalho.
When we work with people (artists, educators, students) who come to us to learn from our experience, we think above all in inspiring them to seek and develop their own paths in an active relationship with art. And we use the designation of Artistic TransFormation for this kind of work.


Em Dezembro a constelação ZYG fará uma primeira breve aparição pública. No evento "Pegada Cultural - Caminho Percorrido" organizado pela DGArtes na TIME OUT - Mercado da Ribeira daremos a conhecer o trabalho que temos vindo a realizar com os nossos parceiros. ZYG é uma colaboração entre a Companhia de Música Teatral (PT), a Dybwikdans (NO) e a Fábrica das Artes-CCB (PT) construída em torno da ideia de criar uma experiência artística original e inovadora para as crianças com idade entre 0-36 meses, com repercussões educacionais para a comunidade. Tem o apoio do programa Pegada Cultural | Primeiros Passos, uma iniciativa conjunta da Direcção Geral das Artes e do Conselho das Artes da Noruega, co-financiada pelas EEA Grants. Estaremos na Bélgica, no Impulse Centre for Music para o Simpósio Musicaklassen Extra: a glimpse of an educational future. No bosque de Neerpelt falaremos acerca de GermInArte. Dar e receber, partilhar com amigos. Escutar. Em colaboração com outros parceiros estamos à procura de NOVAS LINGUAGENS, num projecto da Câmara Municipal de Vila Nova de Famalicão com apoio do Programa Qualificação das Novas Gerações da Fundação Calouste Gulbenkian. Para abrir portas de comunicação através do poder da música junto daqueles que cuidam de crianças com necessidades educativas específicas. Na Fábrica da Ciência em Aveiro, no dia 15 de Dezembro, o Pianoscópio viajará entre Ciência e Arte, com destino ao "mar profundo", numa colaboração com alunos do mestrado em Ensino de Música e especialistas em biologia marinha da Universidade de Aveiro.
In December the ZYG constellation will make a brief first public appearance. At the event "Pegada Cultural - Caminho Percorrido" organised by DGArtes in TIME OUT - Mercado da Ribeira, we will report on the work we have been doing with our partners. ZYG is a collaboration between the Companhia de Música Teatral (PT), Dybwikdans (NO) and the Factory of Arts-CCB (PT) built around the idea of creating a unique and innovative artistic experience for children aged 0- 36 months, with educational repercussions for the community. It has the support of the Cultural Footprint program | First Steps, a joint initiative of Directorate General of Arts and the Arts Council of Norway, co-financed by the EEA Grants. We will be in Belgium in Impulse Centre for Music for the Simposium Musicaklassen Extra: a glimpse of an educational future. At Domein Dommelhof in Neerpelt, we will talk about GermInArte and we will learn new things. To share. Being with friends. Listening. In cooperation with other partners, we look for "NEW LANGUAGES", in a Vila Nova de Famalicão City Hall project, supported by the Qualifying New Generations Program of Fundação Calouste Gulbenkian. Awakening musicality in the ones that take care of children with specific educational needs.
At Fábrica da Ciência em Aveiro, on the 15th December, Pianoscope will travel between Science and Art, aiming at the "deep sea", a collaboration with master's students in Music Education and marine biology experts at the University of Aveiro.


Em Novembro demos mais um passo importante no projecto Geminarte e na procura de caminhos para a Transformação Artística para o Desenvolvimento Social e Humano a partir da Infância. O V Encontro International Arte para a Infância e Desenvolvimento Social e Humano aconteceu a 14 de Novembro, na Fundação Calouste Gulbenkian e centrou-se na reflexão acerca da formação profissional para a primeira infância e a sua relação com práticas artísticas. Especialistas do meio académico, cultural, artístico e profissional falaram de experiências, ideias, opiniões, anseios, críticas e sugestões num clima de fértil partilha que nos inspirou profundamente. Polifonia com sons de Portugal, Brasil e Dinamarca. Em Famalicão a Casa das Arte continuou a construir Pontes de PaPI (o programa que articula apresentações do Peça a Peça Itinerante (PaPI) em salas de espectáculo e espaços da comunidade) levando o Opus 7 a várias instituições do concelho.
In November we took another important step in the project Germinarte, searching for ways to promote Artistic Transformation for Social and Human Development from Childhood. The V International Colloquium Arts for Childhood and Social and Human Development was held on the 14th November at the Calouste Gulbenkian Foundation and focused on reflection about professional training for early childhood and its relation to artistic practices. Experts from the academic, cultural, artistic and professional circles spoke of experiences, ideas, opinion, desires, criticisms and suggestions in an atmosphere of fruitful sharing that inspired us deeply. Polyphony with sounds of Portugal, Brazil and Denmark. In Famalicão, Casa das Artes continued building Bridges of PaPI (the program that articulates presentations Portable Play to Play (PaPI) in theatres and community facilities) leading Opus 7 to various institutions in the county.


A criança precisa gostar de música antes de aprender música. O encantamento pode ser nutrido na família, nas aulas de música ou em espetáculos teatrais. A magia da interação e do deslumbramento permite a gênese de um desejo interior de aprender, pois aprender é uma decisão de foro íntimo da criança, que precisa ser cultivada. Ninguém aprende aquilo que não quer aprender, e ninguém aprende apenas por obrigação, uma vez que a aprendizagem é irremediavelmente voluntária. No mundo de hoje, criar as centelhas da paixão musical torna-se um objetivo e um desafio para profissionais de educação infantil. Oferecer-se musicalmente para as crianças e despojar-se de limitações dos tradicionalismos são possibilidades para que os profissionais possam reconstruir sua própria história musical. A oportunidade de trabalhar com crianças retira os julgamentos e pré-julgamentos comuns aos adultos, sendo que a preparação de aulas e a criação de espetáculos infantis permitem a busca do lúdico, do fantástico e do mágico que podem plantar as sementes do desejo da aprendizagem musical.
Ricardo Dourado Freire,
Coordenador do Programa Música para Crianças da Universidade de Brasília

The child needs to enjoy music before learning music. The enchantment can be nurtured in the family, in music classes or theatrical performances. The magic of interaction and glamor allows the genesis of an inner desire to learn because learning is a decision of an intimate nature of the child, which must be cultivated. Nobody learns what you do not want to learn, and no one learns only by obligation, since learning is hopelessly voluntary. In today's world, creating the sparks of musical passion becomes a goal and a challenge for early childhood professionals. To musically give oneself for the children and divest from the limitations of traditionalism are possibilities offered to the professionals to rebuild their own musical history. The opportunity to work with children removes the judgments and prejudices common to adults. The preparation of classes and the creation of performances for children allow the pursuit of playful, fantastic and magical that can plant the seeds of desire for learning music.
Ricardo Dourado Freire,
Music Program Coordinator for Children at University of Brasília



Em 2015 faz 20 anos que o Professor Edwin Gordon visitou pela primeira vez o nosso País. A esta visita seguiram-se várias iniciativas e a organização de múltiplos encontros que influenciaram o percurso musical do País. Nomeadamente, ao nível da iniciação musical dos mais pequeninos, que hoje ajuda grandes e pequenos a crescerem melhor. Estamos contentes por celebrar os vinte anos da teoria de aprendizagem musical em Portugal ajudando ao nascimento do Instituto de Aprendizagem Musical Edwin Gordon. Felicidades, IAMEG! Obrigada, Professor Edwin Gordon!

Twenty years ago, Edwin Gordon has visited our country for the first time. Since then, his ideas have been spreading, helping on musical guidance for the little ones. We are happy to celebrate the birth of IAMEG (Instituto de Aprendizagem Musical Edwin Gordon) at the same time that we commemorate 20 years of learning music theory in the country. Thank you, Professor Gordon! Good luck IAMEG!