Procuramos na Música o caminho para o silêncio.
In Music we search the path to silence.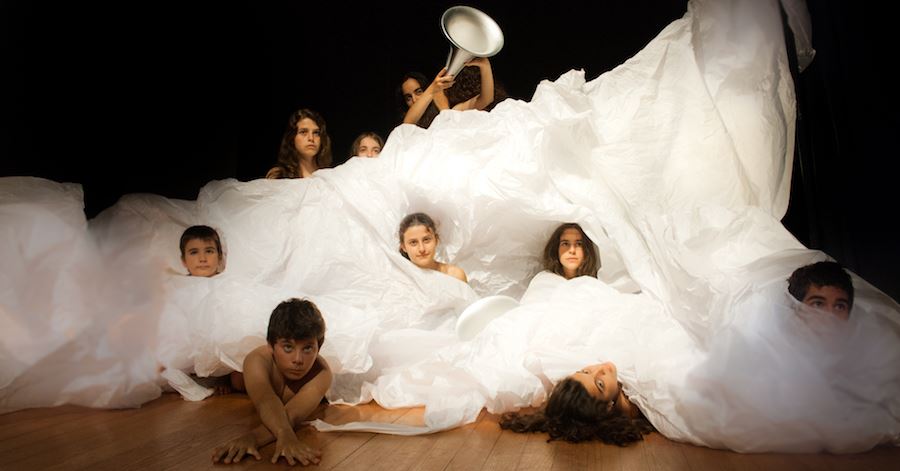 No final de Agosto estaremos de novo em residência artística no Teatro Aveirense. NOAH estreará no Outono, sendo uma co-produção com a Casa das Artes de Vila Nova de Famalicão, do CineTeatro Alba e do Teatro Aveirense.
In the end of August we will be back to Teatro Aveirense for another artistic residence. NOAH, a co-production with Casa das Artes de Vila Nova de Famalicão, CineTeatro Alba and Teatro Aveirense, will be premiered in the Autumn.


Em Julho, Dabo Domo - Formação Imersiva em Arte para a Infância teve lugar na Fundação Calouste Gulbenkian (FCG) em Lisboa no âmbito do projecto GermInArte. O percurso formativo incluiu trabalho de voz e movimento, improvisação musical e criação transdisciplinar, bem como observação ao vivo de modelos de interação artística com bebés. No final, as apresentações germinadas pelos próprios formandos deambularam pelo maravilhoso Jardim da FCG.
O Teatro Aveirense acolheu uma residência artística de NOAH, numa viagem que revela a Arca enquanto metáfora da convivência e da diversidade.
O Gamelão de Porcelana e Cristal ressoou no Festival dos Canais em Aveiro e no Convento do Carmo Torres Novas.
In July Dabo Domo - Immersive Training in Arts for Childhood took place at the Calouste Gulbenkian Foundation (FCG), in Lisboa, as part of the project GermInArte. The training program included work on voice and movement, musical imporovisation and transdisciplinary creation, as well as the live observation of models of artistic interaction with babies. The final performance, organised as traveling tableaux developed by the trainees, took place at the wonderful FCG garden. Teatro Aveirense hosted an artistic residence of NOAH, a journey revealing the Ark as a metaphor of coexstence and diversity.
The Porcelain and Crystal Gamelan resounded at Festival dos Canais em Aveiro and Convento do Carmo in Torres Novas.


Dabo Domo dá coragem e nutre / Começar as minhas manhãs a cruzar os Jardins da Gulbenkian é algo de extraordinário e inspirador /Uma semana idílica/ Um "espaço de utopia"/ Exemplos de prática pedagógica sensível / A minha voz ganhou uma vida / Dabo Domo fez-me crescer tanto e a tantos níveis ! / Importantes os momentos de observação das sessões com bebês e das nossas próprias interações com bebés/ A diversidade das demonstrações com bebés ao final do dia é um presente magnífico/ Maravilhoso o contacto com pessoas de diferentes áreas/ Amadureci a minha sensibilidade e consciência artística / Um ponto culminante entre a pedagogia, a arte e a parte mais profunda do ser humano / Um "micro-mundo" especial à volta do local onde decorre a formação. / Uma atitude pedagógica mais consciente no trabalho com crianças e famílias / Muita descoberta individual / Algo que levarei para a minha vida pessoal, artística e profissional / Evoluí muito como pessoa, artista e professora / A minha prática profissional vai definitivamente alterar-se devido a esta formação / Vemos mais, vemos outras visões/ Este projeto é muito mais do que música, é vida!

Comentários dos formandos participantes em Dabo Domo - Formação Imersiva em Arte para a Infância
Dabo Domo nurtured my soul and encouraged me / To start my training days by walking through Gulbenkian Gardens is extraordinary and inspirational/ An idyllic week/ An "utopia space"/ Sensitive pedagogical models / My voice as regained a life/ I grew up in Dabo Domo / To observe babies in live performances and to practice with them was powerful/ The diversity of performances for the babies is really a gift/ Wonderful to contact with different people / I matured my sensitivity and artistic awareness/ A bridge between pedagogy, art and the deepest part of ourselves/ A very special micro world around a magnificent place for training/ I acquired a greater consciousness to work with children and families/ Lots of individual discoveries / Something I am taking home for my professional, artistic and personnel life/ I progressed a lot as teacher, artist and person/ I will improve my daily professional practice /We see more because we see other visions/ This project is more than music, is life!
Comments of Dabo Domo trainees


O programa do VII Encontro Internacional Arte para a Infância e Desenvolvimento Social e Humano estará disponível em breve aqui.
The program for the VII International Colloquium on Arts for Childhood and Human and Social Development will soon be available here.