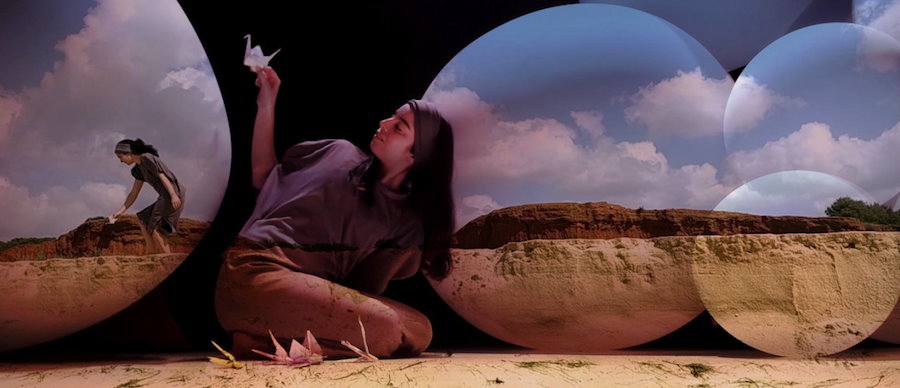 Todos já voámos em sonhos ou já sonhámos voar na vida real... sair do lugar, mas em vez de ir para a frente, para trás ou para o lado, subir... Subir para ver o mundo de cima, para ver as nuvens de perto...
We have all flown in dreams or have dreamed of flying in real life... leaving a place, but instead of going forward, backward or sideways going up... Soaring to see the world from above, to see the clouds close up...



"No maravilhoso mês de Maio, quando todos os pássaros cantam", PaPI-Opus 8.z voará em Famalicão. Uma viagem ao mundo dos pássaros, de todos os pássaros, os reais e os imaginários. PaPI-Opus 8.z é ágil e colorido, canta e viaja ao sabor dos sons e do movimento e usa o Zoom para entrar em casa das crianças ou nas suas salas de aula. Nos tempos que atravessamos tem-nos feito chegar cada vez mais longe, mas está sempre muito perto de quem o vê e ouve. Na NCMM 2021: "Music Performance as Creation", International Conference, em Lisboa, falaremos sobre O Céu Por Cima de Cá.
"Im wunderschönen Monat Mai, als alle Vogel sangen" PaPI-Opus 8.z will fly in Famalicão. A journey to the world of birds, all of them, the real and the imaginary ones. PaPI-Opus 8.z is agile and colorful, sings and travels with sounds and movement and uses Zoom to enter the children's home or classroom. In the times that we are going through, it has taken us further and further, but it is always very close to those who see and hear it. At NCMM 2021: "Music Performance as Creation", International Conference, in Lisboa, we will talk about O Céu Por Cima de Cá.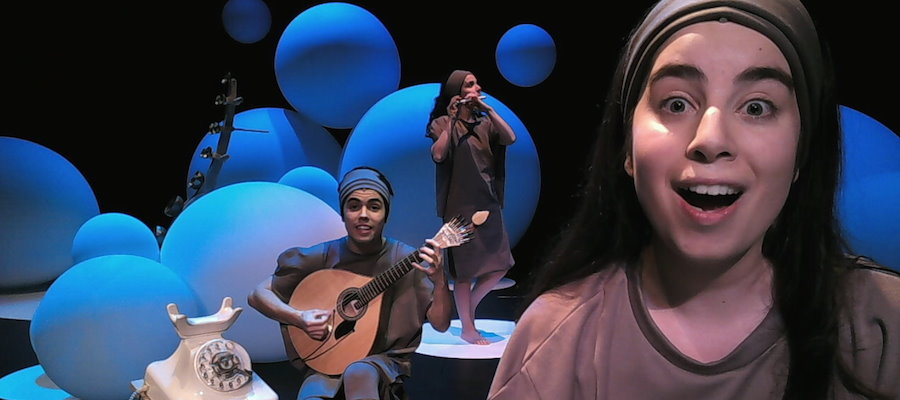 Em Abril estivemos no Céu. Em Loulé encontrámos as nuvens, as vozes, os pássaros, o mar que fizeram de O Céu Por Cima de Cá uma experiência única, em profunda ligação com a terra e as pessoas que nos têm acolhido e com todos os que estiveram connosco via Zoom. No Seminário Internacional Desenvolvimento Humano na Primeira Infância: Educação Musical e Musicoterapia aprofundámos a nossa relação estreita com o Brasil, partilhando a experiência de Murmuratorium, revisitando Andakibébé, apresentando o workshop Afinar a Escuta e Afinar o Olhar e a conferência Criatividade e resiliência: histórias de superação artística em tempo de pandemia. O documentário Murmuratorium-rumos e rumores, de Luís Margalhau, foi mostrado pelo Teatro Aveirense.
In April we were in Heavens. At Loulé we found the clouds, voices, birds and the sea that allowed O Céu Por Cima de Cá (Heavens Above Here) to be a unique experience, in deep connection with the land and people that have been welcoming us and with everyone who joined us, via Zoom. At the International Colloquium Human Development in Infancy: Music Education and Musicotherapy we deepened our close relationship with Brazil, sharing the Murmuratorium experience, revisiting Andakibébé, leading Sight Tuning workshops and the conference Creativity and resilience: tales of artistic overcoming during pandemics. Luis Margalhau´s documentary Murmuratorium-roads and rumors, was exhibited by Teatro Aveirense.



"Inquietação. Questionamento. Fascínio. Curiosidade. Deslumbramento. Escuta ativa. Resistência. Resiliência. Acreditar... ingredientes essenciais para uma programação cultural implicada e plural que transforme e toque as pessoas. Porque devemos contribuir fortemente e consistentemente para que a Liberdade continue a passar por aqui!"
Dália Paulo, trabalhadora da Cultura

"Restlessness. Questioning. Fascination. Curiosity. Amazement. Active listening. Resistance. Resilience. Believing ... essential ingredients for an involving and plural cultural program that transforms and touches people. Because we must contribute strongly and consistently so that Freedom continues to come through here!"
Dália Paulo, Culture workwoman


Poemário, a coleção que iniciámos em 2020 a convite da Fábrica das Artes, CCB, tem mais uma poema audiovisual: Olvido (clique aqui). Continuam a nascer pássaros na ponta dos dedos.

Poemário, the collection started in 2020 after an invitation from Fábrica das Artes, CCB, has a new audiovisual poem: Olvido (click here). Birds continue to be born at your fingertips.