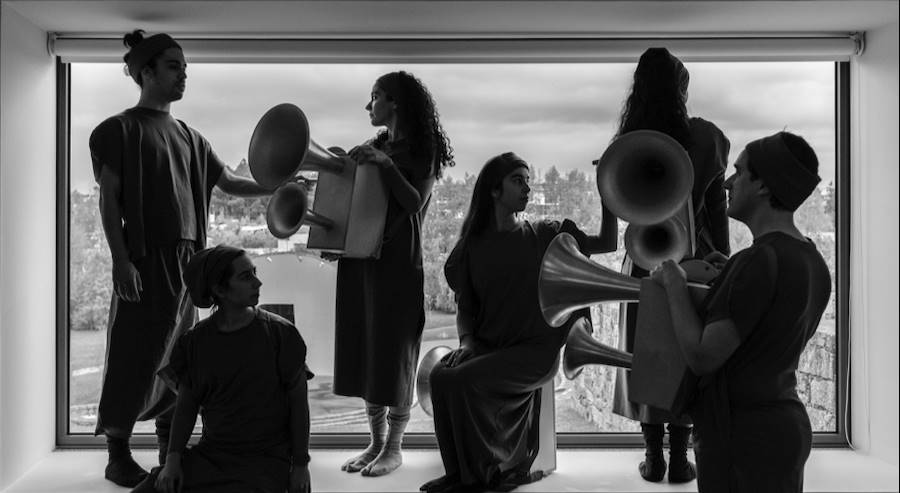 Sonhamos com ter de volta o canto dos pássaros e o chilreio das crianças.
We dream of having back the singing of birds and chirping of children.



No "maravilhoso mês de Maio" os "jardins sonívoros" de PaPI-Opus 7 deverão florir em Carvalhal, Bragança, Almeida, Meda e Caldas da Rainha. Santarém deverá acolher os pássaros de PaPI-Opus 8 e as águas de PaPI-Opus 9. Com os PaPIs chegamos simultaneamente a teatros, jardins de infância, bibliotecas e outros espaços. Onde quer que estejam os mais pequeninos.

"Im wunderschönen Monat Mai" the "somnivorous gardens" of PaPI-Opus 7 should bloom in Carvalhal, Bragança, Almeida, Meda and Caldas da Rainha. Santarém will welcome the birds of PaPI-Opus 8 and the waters of PaPI-Opus 9. With the PaPIs we reach theaters, kindergartens, libraries and other spaces at the same time. Wherever the little ones are.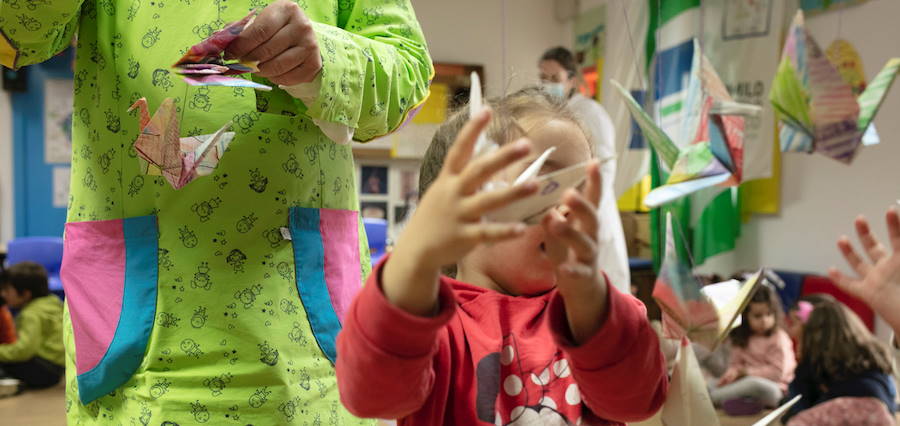 Em Abril levámos o Inventário dos Frutos até ao Teatro Municipal da Covilhã e participamos no Beyond Zoom: Digital Arts Education Co-Lab, em Matera (Itália). Fizemos florir "jardins sonívoros" em localidades icónicas do Centro de Portugal: Luso, Curia, Monsanto, Penamacor. As viagens de PaPI-Opus 7 têm-nos levado muito perto dos pequeninos que estão longe dos centros culturais mais habituais. E assim deverá ser também em Maio. Poder estar em palcos de "vários tamanhos" e fazer chegar o nosso trabalho a todos deixa-nos felizes. Estivemos em residência criativa em Aveiro para explorar ideias que tomarão forma em A Canção da Terra, a criação que estamos a co-produzir com a Casa das Artes de Vila Nova de Famalicão, o Cine-Teatro Alba, Albergaria-a-Velha e o Município de Lagoa. Abrimos uma pequena janela sobre este trabalho participando, online, no painel Tales of Musicoplantophilia, no âmbito da conferência Experimentation and Beyond in Music, que decorreu na Casa da Música, no Porto. uma iniciativa do projecto Xperimus da Universidade de Aveiro. Levámos o PaPI-Opus 8.z até algumas escolas (Nisa, Funchal e Lisboa), à associação Acreditar e ao IPO de Lisboa e à Polónia. O Jardim Orizuro que desenvolvemos em Seide, Requião e Castelões, teve um epílogo muito bonito no Dia da Terra, no Parque da Devesa em V. N. Famalicão (ver Highlight).
In April, we took Inventário dos Frutos to Teatro Municipal da Covilhã and we participated in the Beyond Zoom: Digital Arts Education Co-Lab, in Matera (Italy). We made "sonivorous gardens" bloom in three iconic locations in Central Portugal: Luso, Curia Monsanto and Penamacor: the journey of PaPI-Opus 7 has taken us very close to the little ones who are far from the most usual cultural centers. And so it should also be in May. Being able to be on stages of "various sizes" and making our work reach everyone makes us happy. We held a creative residency in Aveiro to explore ideas that will take shape in A Canção da Terra, our new co-production with Casa das Artes in Vila Nova de Famalicão, Cine-Teatro Alba, Albergaria-a-Velha and the Municipality of Lagoa. We opened a small window on this work by participating, online, in the Tales of Musicoplantophilia panel, within the scope of the conference Experimentation and Beyond in Music which took place at Casa da Música, in Porto. an initiative of the Xperimus project undergoing at the University of Aveiro. We took PaPI-Opus 8.z to some schools (Nisa, Funchal and Lisbon), to Associação Acreditar and IPO (Lisbon) and Poland. The Orizuro Garden that we developed in Seide, Requião and Castelões had a very beautiful epilogue on Earth Day, in Parque da Devesa in V. N. Famalicão (see Highlight).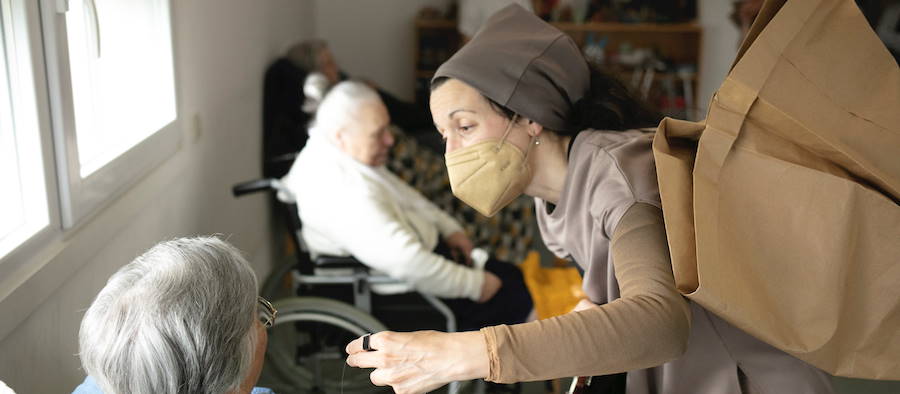 Havia muitos pássaros: cerzeiros, pintasilgos, piscos, gaios, pegas, mochos, corujas. A pega e o gaio roubavam e levavam para o ninho. O melro, não, levava a vida a cantar (...). Os pássaros viviam do que havia na terra. A Natureza dava comida para todos eles (...) . Tinha lá uns gatinhos que me botavam assim as patas no ombro e era com quem eu conversava. Depois que faleceu a minha mulher, estava sozinho, e conversava com os gatos (...). Se eu fosse nova, cantava, dançava e pintava o mafarrico (...). (...) Como ela somos livres, somos livres de voar.
Extractos de diálogos em falocanto-pintodanço da Sara Costa com os

Pássaros Maiores (70-90 anos) do Centro Social Paroquial de Requião
There were many birds: darners, goldfinches, robins, jays, magpies, owls, owls. The magpie and the jay stole it and took it to the nest. The blackbird, no, took his life singing (...). Birds lived off what was on Earth, Nature gave them all food (...) . There were some kittens there that put their paws on my shoulder and that's who I talked to. After my wife died, I was alone, and I talked to the cats (...). If I was young, I would sing, dance and paint the mob (...). (...) As it we are free, we are free to fly.


Extracts of dialogues in falocanto-pintodanço between Sara Costa and the

Bigger Birds (70-90 years old) from Centro Social Paroquial de Requião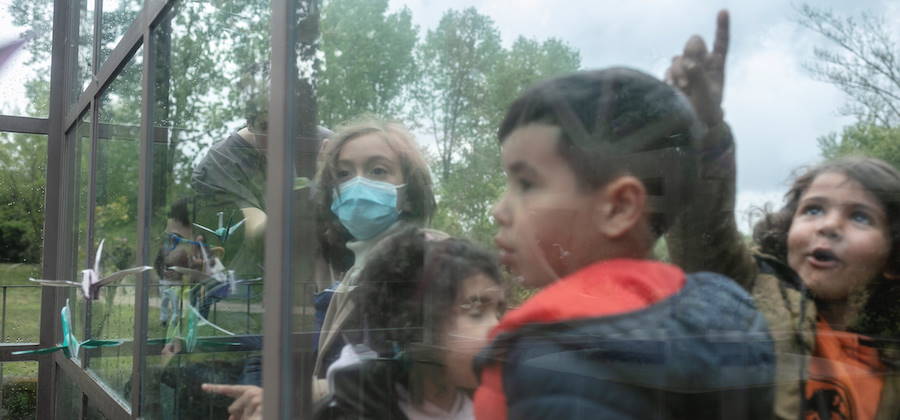 Ao escolhermos o Dia da Terra, 22 de Abril, para fazer o lançamento do livro Rotas de Mil Pássaros e a inauguração da instalação Ecos, quisemos juntar a nossa voz a tantas outras que procuram fazer do nosso planeta a Casa que todos possam habitar. Em paz. Em harmonia. Tínhamos planeado o Dia da Terra como se fosse o Segundo Prelúdio Para A Canção da Terra: uma "performance" que pudesse dar voz aos pássaros que nascem na ponta dos dedos e que incluía vários "rituais", entre os quais a recolha dos orizuros criados pelas crianças e idosos que tinham participado no projecto Jardim Orizuro e um "happyning" no Parque da Devesa, em V. N. Famalicão, A chuva juntou-se a nós e trouxe com ela alguns dos passarinhos que tínhamos visitado durante as sessões do projecto. Entre pássaros, pessoas e flores ouviu-se o murmúrio da música.
When we chose Earth Day, April 22nd, to launch the book Rotas de Mil Pássaros and the inauguration of the Ecos installation, we wanted to add our voice to so many others that seek to make our planet the House that everyone can inhabit. In peace. In harmony. We planned Earth Day as if it was the Second Prelude For The Song of The Earth: a "performance" that could give voice to the birds that are born at fingertips and that included several "rituals", including the collection of orizuros created by children and elderly people who had participated in the Jardim Orizuro project and a "happyning" at Parque da Devesa, in V. N. Famalicão, The rain joined us and brought with it some of the little birds we had visited during the project sessions. Among birds, people and flowers, the murmur of music was heard.